Food
Japanese and Italian Cuisines Meet in Itameshi
If you've already grown tired of Korean tacos, Caprese salad waffles and sushi burritos, it's tempting to think of culinary mash-ups as a clever trend, soon (or so you hope) to pass. In fact, though, culinary history is rife with such cross-breedings, most of them the happy, unexpected hybrid of immigration, war and other collisions of culture. Think, for instance, about chicken vindaloo—born of the Portuguese colonization of Goa, India. Or ma po tofu, unimaginable to us today without its profusion of chile peppers, which arrived in China from the New World three hundred years ago.
Not nearly so old, but just as compelling, is the tradition of itameshi, the mash-up of Japanese and Italian cooking, which has gained in popularity with chefs around the country as they look for new ways to build on their growing knowledge of Japanese techniques and flavors to entice a generation of diners primed to embrace worldly experimentation.
At a glance, the marriage seems unlikely. Japanese cooking, at least outside the char-grilled context of an izakaya, communicates in the grammar of the clean and the delicate, with spareness the guiding aesthetic virtue. The best Italian cooking, even at its most refined, is just the opposite. It's not just the lusty dishes of Naples that serve up a swaggering presence on the plate: From the top to the bottom of the boot, bigness, boldness, zestiness and brightness reign.
These stark differences, says Josef Centeno, are precisely what led him to think about trying his hand at a braid. The traditions "complement each other really well—they balance each other—and there are so many combinations that are inspiring."
Orsa & Winston, his tasting-menu restaurant in Los Angeles, is a showcase of such inspirations. You'll find mangalitsa pork testa paired not with a salsa verde but rather with a green tea shichimi. The complementary elements in a plate of beef carpaccio bend both toward Italy (a tonnato) and Japan (sesame), as does a take on agnolotti in brodo (the brodo, in this case, a paitan broth accessorized with tatsoi and hand-shaved bonito). If this mixing and matching sounds willful on the page, it rarely comes across that way on the palate. To illustrate his working method, Centeno, who also has Baco Mercat and four other restaurants in downtown Los Angeles, points to the example of his Satsuki rice, the okayu-inspired, risotto-like dish that provided the foundation for his approach at Orsa & Winston.
The dish features an oceanic bounty of uni, geoduck, abalone and lobster, but its foundation is simple, even humble: rice cooked in vegetable stock and finished with a Pecorino cream. Before it is served, the plate gets a finishing splash of yuzu mixed with dashi. "It's a matter of good seasoning," Centeno says of the dish, and of his method of composition generally. "You want to balance traditional elements—acidic, sweet, bitter, salty—so that flavors taste as if they were always meant to go together."
In other words, if it weren't, in this instance, Pecorino, yuzu and dashi flavoring the rice, it would be three other, more conventionally Italian ingredients to bring richness, depth and tang. As for uni, it occupies the center of the culinary Venn diagram as an item prized equally by the Japanese and the Italians, an insight that Centeno is not alone in exploiting.
The effect at Orsa & Winston is of discovering something new: in dish after dish the elements, initially disparate, even possibly jarring, are brought together to create a new cuisine. But even when the goal is not, as it is for Centeno, a seamless synthesis, the results can still be revelatory.
At the recent New York City pop-up, Pasta Omakase, in which a tasting menu of rustic Italian classics was given a Japanese inflection, the familiar was made fresh, and dishes that diners had long taken for granted felt different and new. Among the dishes that emerged from this experiment—one Angie Rito and Scott Tacinelli, the chefs (and spouses) behind Quality Italian in midtown Manhattan and Denver, hope to reprise at their forthcoming restaurant this fall—was a tortellini in tonkotsu broth.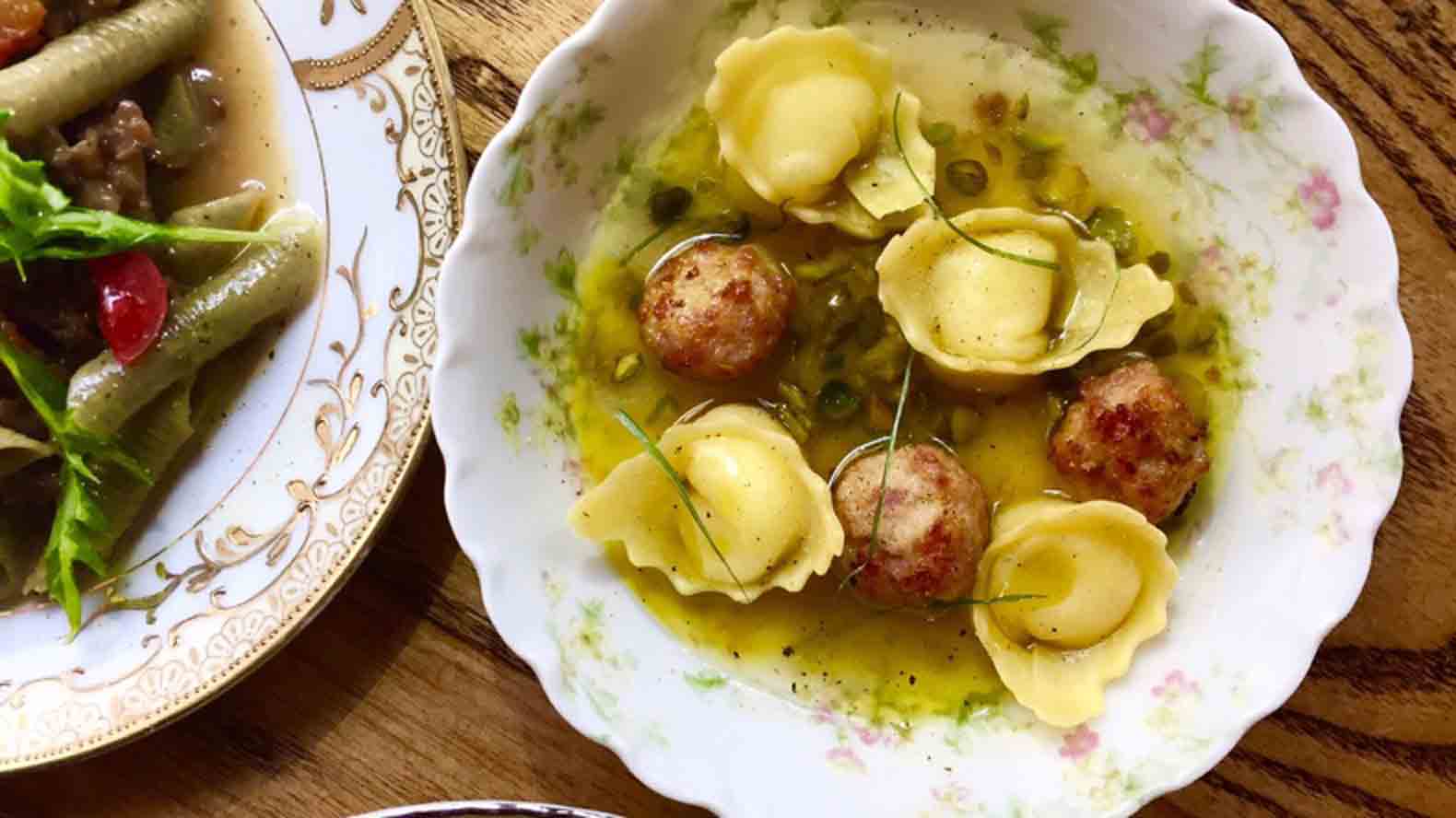 What looks like the Bolognese staple tortellini in brodo is in fact a canny reinterpretation, presented in the context of the dish du jour of their Lower East Side contemporaries. The dish, like most of their concoctions, grew out of "a lot of trial and error, a lot of researching, a lot of thinking and rethinking," Rito says. "It was honestly one of the hardest things we've done, just because of the difference in flavors and styles."
The effort rarely showed, and in fact what was great about most of the dishes was that they didn't feel forced, as if cacio e pepe, the Roman mac and cheese, was somehow meant to be delivered in the form of the rice ball snack known as onigiri.
If Rito and Tacinelli made it their mission to remake canonical Italian dishes by filtering them through a Japanese screen, other chefs are looking to infuse the looseness and zest of Italian cooking into their spare, focused arrangements of traditional Japanese dishes.
Marugame Monzo, the Los Angeles restaurant that LA Times food critic Jonathan Gold once said "elevated the udon noodle to cult status," has attracted legions of diners to its original location as well as its Las Vegas outpost with its signature item: a miso carbonara udon.
No effort is made, here, to be clean and light and elegant; the dish is a paean to unrestrained richness, and comes to the table looking like one of the great, over-the-top plates that made the movie Big Night so memorable.
What Yoichi Inoue, the chef and GM of the Vegas location, describes as an "attempt to bring the Italian closer to the Japanese," looks inevitable to the diner, even easy. In fact, though, it's anything but. "It's a really hard balance to pull off, especially if it's a pasta," Yoichi says. "The udon is really delicate, you have to be extra careful with it. The noodle can't be too thick, and it can't be too thin. And if you don't cook the cream enough, it doesn't get attached to the noodles." Body and depth comes in the form of red miso, brightness via a few lobes of uni, smoke by way of crisped bacon.
At Shiso in Sonoma, fried rice is the base for another Japanified take on carbonara. Chef Edward Metcalf was perhaps fated to dabble in itameshi, having grown up in an Italian household and trained in sushi under a Japanese chef. As a result, he says, "I combine a lot."
His fried rice is among the most popular items at his free-wheeling Japanese restaurant, an eye-opener for diners accustomed to thinking of the dish as a way to use up leftovers. A veteran of Michelin-starred kitchens, Metcalf emphasizes the dish's essential texture, beginning with the rice itself—he prefers shortgrain, which has more pop—and continuing on through to the sauteed add-ins: celery, onions and sugar snap peas.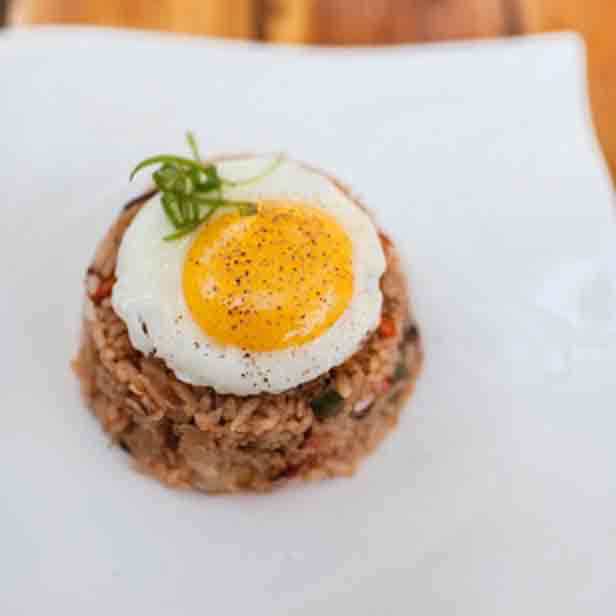 While the flavorings might not be strictly Japanese—along with grated ginger, there is also jalapeno pepper and a housemade sambal—the starring elements of the dish are true to the Italian original: egg (in this case fried and laid atop the rice like a crown) and house-cured bacon (cut up into cubes that are scattered throughout, to add smoke and richness).
It's tempting, in sampling these dishes, to presume that these genre-straddling dishes herald something new and that a new subgenre has been born. But like so much else in the food world, the truth is that what seems new and fresh has its roots in an earlier age.
Itameshi can be traced back to at least as far as a concoction known as Mentaiko spaghetti, which came out of the Italian fixation that gripped Tokyo in the 1950s (and continues to exert a strong grip to this day). Mentaiko is pollock roe, beloved by the Japanese for its clean burst of salt (in much the same way that bottarga, or mullet roe, is beloved by Italians).
At Momotaro in Chicago, Mark Hellyar has taken the original itameshi dish and made it contemporary, lashing his noodles with ginger, shoyu, Kewpie mayonnaise, butter and chile oil and capping them off, ramen-style, with a Jidori egg yolk and a dusting of nori powder.
Like all the best dishes in this delightful and expanding genre, it is both strange and natural, both unsettling and comforting—a creation you're compelled to commemorate on Instagram, even as you're fighting every impulse to dig your fork in and taste.