Food
Creating a Year-Round Greenhouse Garden at 610 Magnolia
Editor's note: This is the third in a series of three articles about restaurant gardens and farms. Click here to read about small space/intensive gardening at Houston's Coltivare, and here to read about the rooftop farm at Chicago's Uncommon Ground.
Winter happens, and even in a relatively temperate climate like Louisville, Ky., it's cold enough to stop most if not all outdoor gardening. Rather than put his local produce goals on hold for a portion of the year, Edward Lee built a greenhouse across the street from his flagship restaurant, 610 Magnolia, so that he and Executive Chef Kevin Ashworth could plant and harvest produce all year.
Lee purchased 800-square-foot greenhouse and built eight raised gardening beds around it in 2015. Ashworth spends several hours a week tending the garden, growing herbs and 30 types of heirloom tomatoes in the raised beds around the greenhouse. Inside the greenhouse, he grows radishes, beets, bok choy, nasturtiums, mushrooms, chilies, salad greens, fennel, kohlrabi, pole beans, three kinds of squash, cucumbers, watermelons, figs, and microgreens.
As with any gardening project, there are successes and failures. Ashworth is happily surprised with the success of the artichokes that are his latest gardening experiment, and plans to try cultivating mushrooms next. But he says he won't try Brussels sprouts again; they took six months and way too much space in the greenhouse.
"We don't grow anything that takes up a lot of space or needs a lot of time to grow, but otherwise, we grow what we want, and harvest when we want," Ashworth says. "[Gardening] changes how you look at the menu. We grow almost 100 percent of the produce we need in the summer, and about 85 percent of what we need the rest of the year. You don't want to waste a thing after putting in the work to grow it."
Although Lee already had a raised bed garden behind the house across the street from the restaurant where he used to live (Ashworth lives there now), the idea for the greenhouse came from Ashworth, who grew up gardening with his grandfather, and convinced Lee to commit the money for the greenhouse and additional raised beds.
"It's an investment; you have to take it seriously," notes Lee, who decided to grow nasturtiums, borage, marigolds, zinnia, sunflowers for the restaurant in the greenhouse to help offset the costs. "We're in it all year, not just when the weather is nice. We have to take care of irrigation, plumbing lines, the heater. We spend $300-400 a year on seeds. It's a $20-25,000 investment, but once you have it, you have a system in place for years."
Between the greenhouse and raised beds are other produce options: Lee and Ashworth know where to find local fruit-bearing fig trees; wild raspberries, persimmons, peaches, apples and other foragable ingredients can also be found nearby. But the greenhouse is still essential. Even with a warm spring jump-starting the farmers market, Ashworth and Lee have a head start on accessing seasonal produce.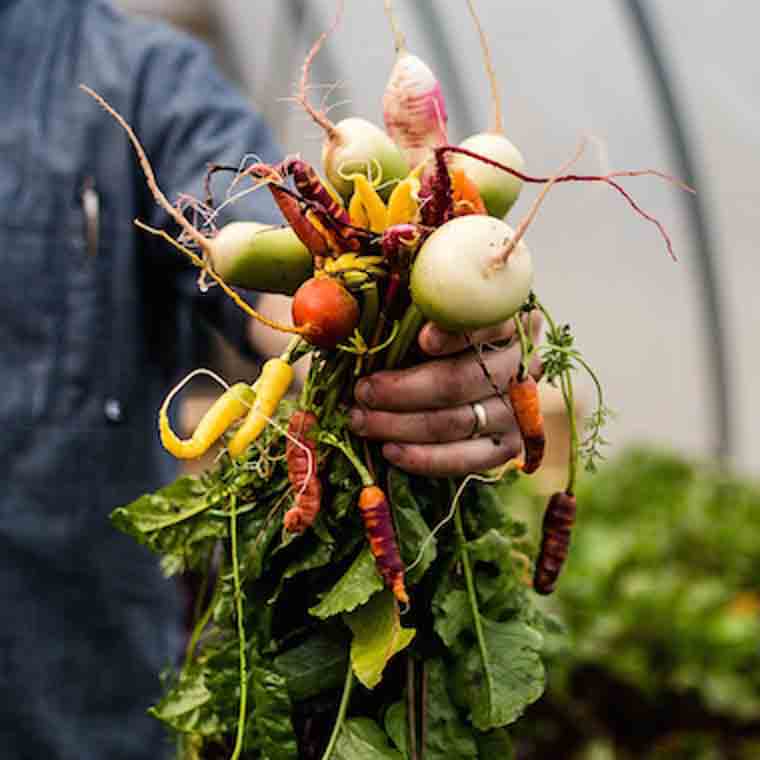 "We're three weeks ahead of farmers," Ashworth says, noting that his tomato plants are already four feet high. The greenhouse is insurance for them against changing weather, like the late frost that might have destroyed much of Georgia's peach and blueberry crops this year. "Every few years, there is a late frost, and the greenhouse protects us from losing what might freeze if it was outside," he says.
The greenhouse means Ashworth and Lee plan menus with an eye to what is coming up in the garden.
"We have a pow-wow," Ashworth says. "I'll create a list of what I want to grow, what we need to grow. We have staples, like radishes and carrots, that we always grow, but we look at what we want to put on the menu, the ideas we have. We talk about what we want to experiment with, and we go out and try to find the seeds for it. The local farmers will help us find seeds." Ashworth says having the greenhouse has prompted changes in his cooking; he doesn't use lemon in the kitchen, because they make vinegar from the raspberries, figs and beets they grow. And even when winter hits, the garden has something to offer: Ashworth trims sage and thyme branches, let them dry out, and uses them to smoke everything from grapes to duck.
"You can't do this for every restaurant," Lee acknowledges. "You have to have the right location, climate and restaurant for it. The square footage of what we grow is bigger than the dining room. We serve 200 people a week, and have the space to have the greenhouse and garden. In a city, that would be a private dining space, but here, we can grow our food."
Aside from supplying the kitchen with produce, the garden fulfills the broader vision Lee has for 610 Magnolia, Milkwood and his new bar, Whiskey Dry. He hosted a vegan dinner at the restaurant, giving guests a tour of the greenhouse and gardens and letting them select produce for their dinner. As well, the garden fits his ethos for his restaurant group.
"We want gardening to be part of the culture of all our restaurants," Lee says. "Everyone has to weed. We're composting, we're doing more fermentation, because we are growing the products we need to do it. The greenhouse was the last piece of the puzzle for us."