Food
Asian Rice Salads Evolve in American Restaurants
The rice salad that Iing Chatterjee knew while growing up in Bangkok was a bright, herbal rendition made with finely sliced vegetables—a combination of whatever greens were left over from the day before. She was completely unfamiliar with nam khao tod, a salad of deep-fried rice balls broken up and tossed with seasonings that hails from Laos. But to her husband, Kasem Saengsawang, who grew up on a farm in Isan, in northeast Thailand near the Thai-Lao border, nam khao tod was what he knew as rice salad.
The couple now serves both dishes at Farmhouse Kitchen, their Thai restaurant in San Francisco and Portland, Ore., yet even so, they're quick to point out that they're not even close to covering all of the possibilities of regional Thai rice salads. Take the version from southern Thailand, they say, which goes heavier on fermented fish seasonings.
This just goes to show that when it comes to rice salads in Southeast Asia, the sheer number of varieties within each country—or even within each family—feels limitless. Rather than being thought of as a way to use up leftover rice, the evolution of rice salads came out of the desire to showcase this essential grain in a new, fresh way.
To be sure, "salad" is a very loose translation. "If it's not hot and not cold, in Thailand we call it a salad," Saengsawang says. In Southeast Asia, rice salad is a snack, something to eat at the start of a meal to get the conversation going. It is just as likely to be wrapped in a leaf and eaten by hand as it is to be spooned onto a plate, and the best versions play up texture and a savory-tangy balance, which gets you reaching for more.
"It's an interactive way of eating," explains James Syhabout, chef/owner of San Francisco's Hawker Fare. "And eating with your hands is the best way on Earth to eat anything."
Crispy Rice
When Syhabout was growing up in nearby Oakland, nam khao tod was a standard at family parties, even though his mother never made it the same way twice. "Sometimes it's sweeter, sometimes there's more pork," he says. "It's what you like."
Three years ago, he added nam khao tod—calling it "Crispy Rice Ball Salad" (recipe)—to the Lao- and Isan-focused menu at Hawker Fare. To make it, he mixes red curry paste into rice with a little salt and shredded coconut. He forms the mixture into balls as if making arancini, flattening each one slightly to increase its surface area, and then deep-fries them until crisp.
Once fried, the balls are broken apart and seasoned with lime juice, peanuts, scallions, ground chile, fish sauce, and, for tang and texture, bits of sour pork and pork skin fermented for three days. Syhabout serves the salad with lettuce and herbs for wrapping, and it's become one of his most popular dishes.
What makes this version different from a similar crispy rice salad in Thailand? Syhabout is reluctant to give specifics. "Do you know the phrase 'Same, same but different'?" he asks.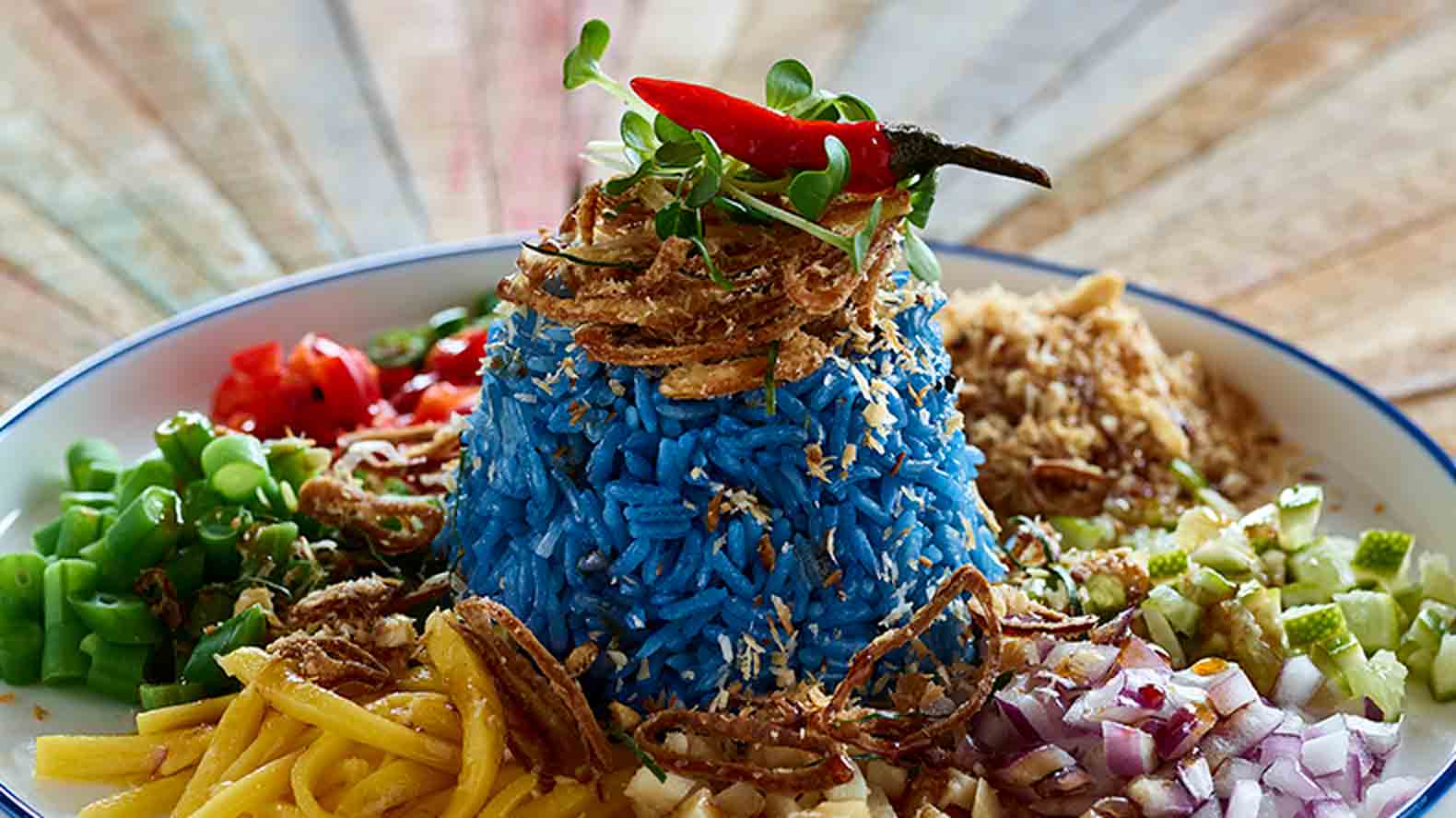 Blue Rice
With its rice salad options, Farmhouse Kitchen offers a choice between familiar and new. Saengsawang says there are customers who always order nam khao tod. Different from Hawker Fare's version, Farmhouse Kitchen's crispy rice balls contain egg, and Saengsawang adds a chiffonade of betel leaf to the mix at the end. But for all that goes into the salad—the frying, slicing, and mixing—it can look plain through the lens of an iPhone.
Not so with the restaurant's herbal rice salad (recipe), which arrives as a rainbow on a plate. The key is the rice dyed blue from butterfly pea flowers left to steep in the rice cooking water. The room-temperature rice sits on shredded greens and is surrounded by mounds of puffed rice, raw sliced green beans, diced red peppers, sliced lemongrass, and a mix of fried shallots, coconut, peanuts, and sesame seeds. A sweet-sour tamarind sauce is drizzled over the salad to finish. For full visual impact, the salad is brought to the table unmixed, so customers can eat it any way they like.
"Sometimes it's about explanation, to deconstruct it to give a picture so they know what to expect," Saengsawang says.
Sticky Rice
The world of rice salads continues to evolve. Even though the Philippines is not known for rice salads, Carlo Lamagna is challenging that idea by introducing his own at his Portland, Ore., restaurant, Magna.
The inspiration for savory suman came in two parts: recognizing the value that Filipinos place on rice and the desire Lamagna had to create a first course introducing the Filipino flavor palate of ingredients such as bagoong, a fermented-fish condiment, and calamansi citrus. "It's a combination that my grandmother would eat, but it's my own take," he explains.
By doing so, he's modifying traditional suman—a sweet dish—by borrowing a page from Thailand and Laos, playing with the texture of the rice and introducing acid and savory flavors to balance out the final dish (recipe). Lamagna cooks short-grain sweet rice with ginger, garlic, chicken stock, and fish sauce before wrapping each portion of rice in a banana leaf, so the rice absorbs the flavor of the leaf as it steams. The leaf is then opened and the rice is served at room temperature, topped with shredded green mango and shallots mixed with a vinaigrette of bagoong, calamansi, grapeseed oil, and honey. Pinipig, a Filipino toasted rice, garnishes the plate.
"For Filipino food novices, it is a preview of what to expect," Lamagna says. "But for the Filipinos who are well-versed in Filipino food, it will throw them a curveball."
Kate Leahy's go-to rice dish is sticky rice on a banana leaf.