Supplier News
Valrhona Inc. Launches First-of-its-Kind PASTRY APP with Interactive Recipes and Features for Chefs & Bakers
The new Valrhona App fosters inspiration for pastry professionals with an interactive platform that offers technical expertise and customizable tools for recipe development and innovation at the touch of a button.
Brooklyn, NY–As part of our mission to provide best-in-class tools and resources to chefs and professional bakers, Valrhona launched a first-of-its-kind, free, interactive App with premium features, including digitized essential recipes and chocolate pairings, available to all chefs and bakers. The Valrhona App showcases a fun and user-friendly recipe creation application that runs on any iOS device. The App enables all chefs to quickly and easily adapt or create new recipes to showcase their culinary creativity.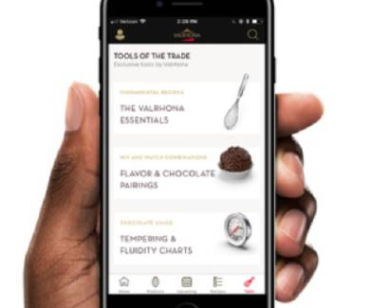 Through the App, users can access 165 Valrhona Essentials, a growing collection of recipes and complete technical guide that has evolved over 30 years of development and deliberation by Valrhona's expert Pastry Chefs. The interactive Essentials tool supports the ingenuity of professional pastry chefs and bakers alike by allowing users to customize and develop ready-to-use recipes in new ways, automatically recalculating recipes for any chocolate they wish to use. While a limited circle of pastry chefs has eagerly awaited the new book of Essentials each edition, now anyone who uses the App will have immediate access to new recipes as soon as they are available. The Valrhona App also offers easy access to professional learning opportunities, tools for customized flavor pairings, viscosity, conversions, and video tutorials, all in one seamless platform specifically designed with pastry professionals in mind.
Some of the App's key features include:
Access the complete Valrhona Essentials guide with 165 customizable recipes and counting – 30 years of expertise in one convenient place!
Use the interactive pairing tool to find the perfect chocolate to go with your favorite flavors, along with suggested recipes for each pairing.
Gain insights with our expansive collection of video tutorials by Valrhona's expert pastry chefs.
Access to comprehensive chocolate tempering guides and fluidity charts.
Toggle between Celsius and Fahrenheit or grams and ounces with our conversion calculators.
Access product information and countless inspired recipes from Valrhona.
Questions? Contact your Valrhona Sales Team member at the push of a button.
About Valrhona Inc.
Valrhona has been producing the world's finest chocolate since 1922. For more information, visit https://us.valrhona.com/. Valrhona has created a range of unique and recognizable aromatic profiles by perfecting techniques for enhancing the flavor of rare cocoa beans, grown on land masterfully selected for its terroir. Today, leading Pastry Chefs and discerning gourmets rely on Valrhona's expertise to experience the best that chocolate can be.